By Assistant Chief Jim Eden
LEE'S SUMMIT, MO— On Tuesday, July 14, 2020 at 7:29 a.m., the Lee's Summit Fire Department responded to a reported structure fire in the 500 Block of SW Mission Rd. Multiple callers reported smoke and fire coming from the apartment building.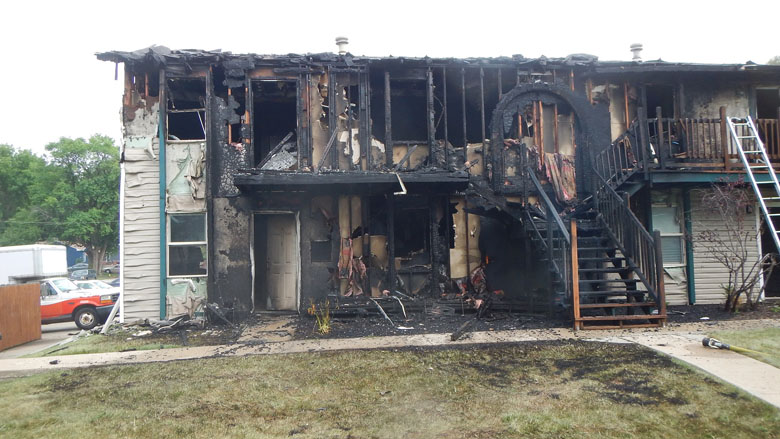 When the fire department arrived, the front of the two-story, four-unit apartment building was well involved in fire. The stairs on the front of the building were blocked by fire and the occupant of a second floor apartment was on a balcony on the back of the building in need of rescue. The adult on the balcony had already handed down a 4 year old child to a bystander. The remainder of the building was being evacuated.
Fire crews rescued the person on the back of the building, as other crews attacked the fire and searched the remainder of the building. A search of the entire building confirmed that everyone was out. The fire was knocked down by 7:43 a.m., and crews began the process of checking for fire spread and extinguishing any hot spots.
The front of the building sustained the heaviest fire damage with extension into the living spaces of all four units. Each unit had varying amounts of smoke and fire damage. The vinyl siding on the apartment building next door sustained radiant heat damage, but is still able to be occupied.
The fire appears to have originated near the stairs on the outside of the building. The cause of the fire is still under investigation.
Assistance has been provided to those displaced by the fire.
There were no reported injuries.